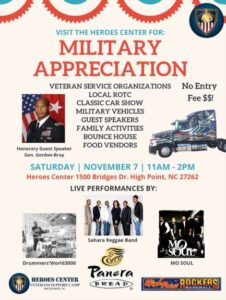 Our brave men and women put their lives on the line everyday to ensure our safety here at home. Show your appreciation for them by coming out to a field day held by the Hero's Center in High Point and spend a quality day with your family! Food trucks, live music, vintage military vehicles and more will be available for you to explore! **FREE ADMISSION**
Live performances will be done by: MO Soul, Sahara Reggae Band and Drummers'World3000.
*This event is sponsored by Panera and hosted by The Heroes Center of High Point. Chief Express is joining in the appreciation day and will be providing one of our "Ride of Pride" Trucks driven by our very own Jeff Davis.